The 1st International Conference on Innovation in Science, Health, and Technology (ICISHT)
Themes : Breeding Innovation in the field of Science, Health and Technology to make Indonesia a Key Player in Global Competition.
We welcome researchers, lecturers, government officials, students and all parties to submit papers in the filed of Innovation in Science, Health, and Technology.
Scope (Including but not limited) :
Biotechnology
Computer software and applications
Energy
Engineering
Information Technology
Biology
Chemistry
Ecology
Environment
Infectious diseases
Nursing, Medicine and Medical Science
Nutrition and Food Safety
Public Health
Reproductive Medicine and Women's Health
Social Science
Education
Agriculture
Economy
Sports
Village Development
Merdeka Belajar Program
Selected paper will be published in International Journal indexed in Scopus Q3, National Journal indexed in Sinta 2, all accepted paper will be published in IOP Conference Series indexed by scopus.
Important Date
Abstract Submission Deadline : 28th November 2020
Announcement of Abstract Acceptance : 30th November 2020
Full Paper Submission Limit : 05th Desember 2020
Announcement of Full Paper Acceptance : 07th December 2020
Payment Deadline : 08th December 2020
Conference Time : 10-11th December 2020
Registration : conference.ung.ac.id
for more information :
Hendra : +6285398825637
Zul Fikar Ahmad : +6285399892292
Nopiana Mozin : +6285340646804
Email : ic.piu@ung.ac.id
Website : conference.ung.ac.id
Organized by Innovation Center, Gorontalo State University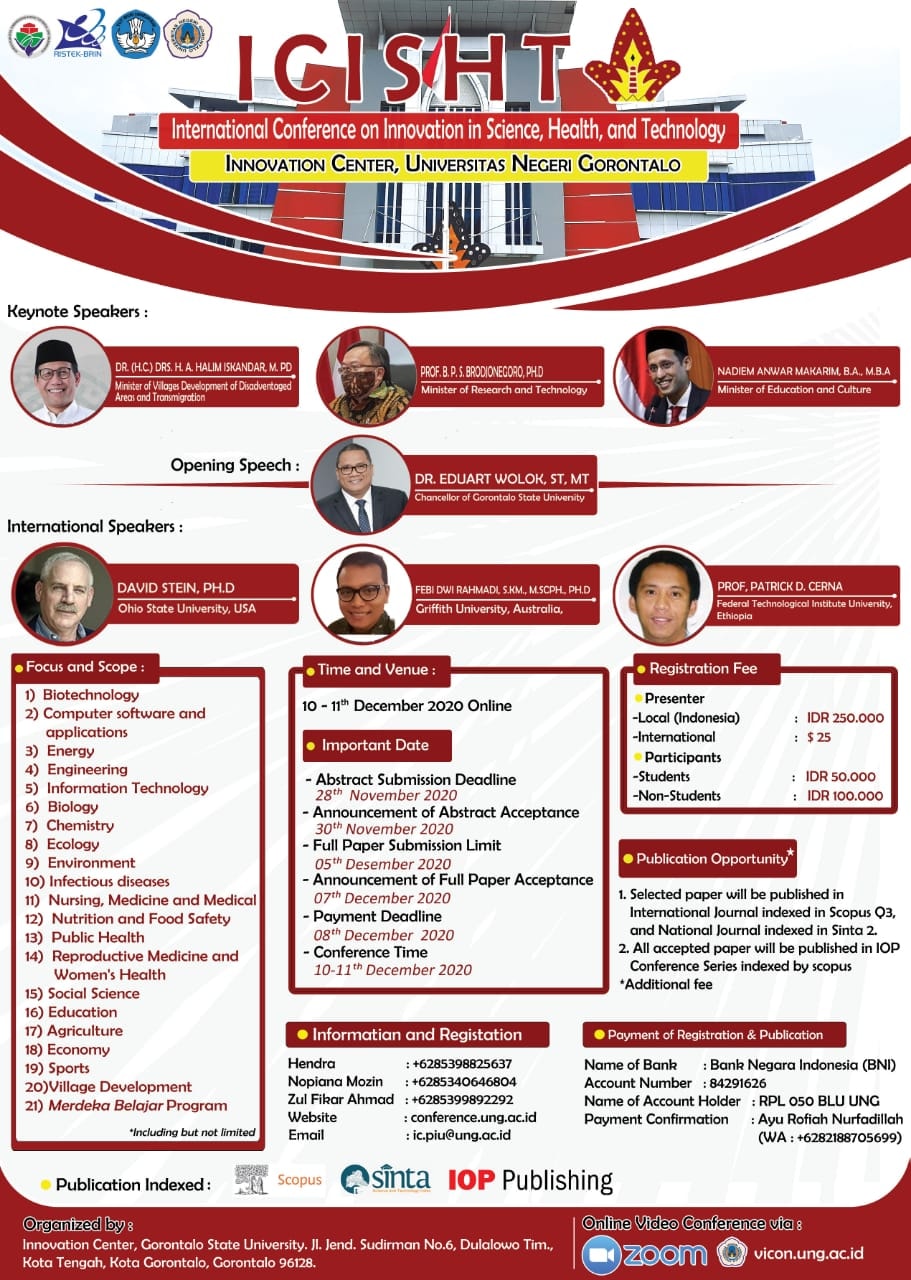 Sumber : UNG